The Secret To A Happy Life -Oliebollen
• christmas • dessert • doughnuts • dutch • food • new years • oliebollen • sweet
This recipe was handed down to me by my mother. It is a Dutch favorite on New Year's Eve.
Oliebollen (literally: oil spheres) are dumplings made from enriched yeast dough and cooked in a deep fat fryer. They are a traditional treat, prepared and eaten on New Years Eve, but can be bought at oliebollen stands in the street in November and December, and also the whole year round at funfairs.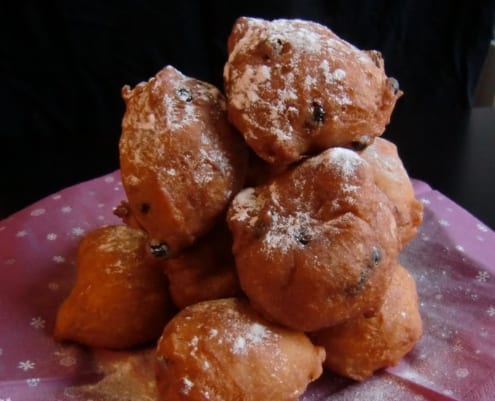 Oliebollen can be made plain or raisins, currants, and apple can be added to the dough. Both usually get dusted with some icing sugar before serving. Some people also add citrus zest, succade, and candied cherries. Also, the olieboll can be filled after baking with whipped cream, pastry cream and/or jam. The sweetness comes from the icing sugar and/or fillings since the dough itself is not very sweet.
Traditional Dutch oliebollen (literally, "oil balls") have often been called the precursor of the doughnut, the popular American treat. It seems very probable that early Dutch settlers took their tradition over to the New World, where it evolved into the anytime-anywhere snack the doughnut is today. In Holland, they pretty much remain a seasonal treat: made and enjoyed specifically to ring in the New Year.
Ingredients
sachets dried yeast
55 g(¼ cup) caster sugar
450 g(3 cups) plain flour
¼ tspsalt
250 ml(1 cup) milk
2eggs, lightly beaten
100 g(⅓ cup) currants
85 g(½ cup) raisins
1granny smith apple, peeled, finely chopped
vegetable oil, to deep-fry
icing sugar, to dust
Standing time 1 hour 10 minutes
Instructions
Place yeast, sugar and 125 ml (½ cup) lukewarm water in a small bowl and stir to dissolve. Set aside for 10 minutes or until mixture bubbles.
Place flour and salt in a large bowl and make a well in the centre. Pour milk, eggs and yeast mixture into the well and stir until combined. Add currants, raisins and apple, and stir until well combined. Cover with plastic wrap and set aside in a warm, draught-free place for 1 hour or until dough doubles in size.
Fill a deep-fryer or a large saucepan one-third full with oil and heat over medium heat to 160°C (or until a cube of bread turns golden in 40 seconds). Working in batches, use 2 dessertspoons to form 6 cm balls, then gently drop them into oil and deep-fry, turning halfway, for 5 minutes or until golden and cooked through. Remove with a slotted spoon and drain on paper towel.
Dust doughnuts generously with icing sugar and serve immediately.
Tips
The dough can be held for 1 or 2 hours covered with a damp dish towel because the yeast will remain active. Then, fry the dough as needed.
If the fritters are uncooked on the inside, the oil is either too hot or too cold. The oil should not be hotter than 350 F/180 C. Oil that is too cold is often the result of frying too many oliebollen at one time.
Allow leftover oliebollen to cool completely and then store them in an airtight container at room temperature. They will keep for approximately two days.
Leftovers can be warmed in a heated oven at 390 F/200 C for 15 minutes or in the microwave on high (850 watts) for 20 to 30 seconds.
Leftovers also can easily be frozen and will keep in the freezer for about 2 months. To eat, allow to defrost and then warm as above.
Love is in the air <3
---
← Older Post Newer Post →
---