In Holland, a night out on the town, or a social event with coworkers, usually starts out at a local café, with a beer or two and something to snack on. This something is called a "bittergarnituur". The word translates as the slightly confusing "garnish for bitters", where bitters in this case refers to alcoholic beverages.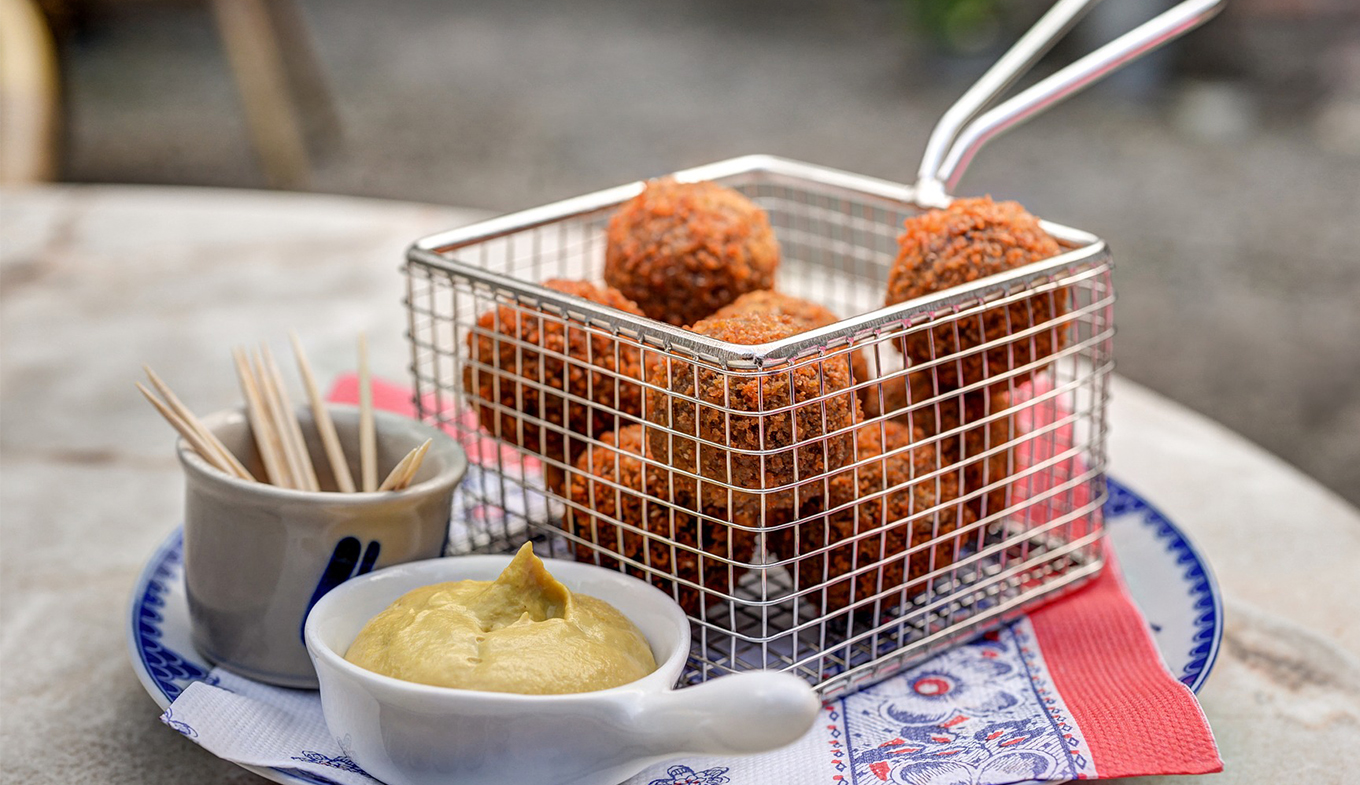 The bittergarnituur will usually contain bite-size cubes of Gouda cheese, miniature eggrolls and meatballs, perhaps some slices of a local meat sausage and ofcourse, bitterballen, Holland's favorite snack.
Bitterballen are deep-fried and crispy breaded rounds with a tender, savory filling. Traditionally made with beef, they can also be prepared with chicken, veal or even with mushrooms, for those that prefer a vegetarian option.
Ingredients In Dutch Meatballs
Detailed measurements and instructions can be found on the printable recipe card at the bottom of the page.
BITTERBALLEN
Butter – Unsalted as we want to control the sodium content of our dish.
Flour – All purpose works just fine as a base for our roux.
Broth – We're using low sodium beef broth. As we're cooking with beef we want to carry that beef flavor all the way through.
Beef – Ground beef, I used regular but feel free to use lean if you'd like to cut back on fat.
Onion – 1 small onion, something that cooks down well like white or yellow.
Nutmeg – This spice may seem like a strange addition, but it pairs beautifully with our savory flavors and rounds out our flavor profiles nicely.
Seasoning – Salt and pepper.
BREADING
Flour – All purpose again to form a nice crisp breading for our exterior.
Eggs – We're using 3 large eggs beaten for dipping.
Crumbs – I used panko bread crumbs today, for information regarding these crumbs refer to my tips section.
Oil – Vegetable oil for frying, I recommend something like canola.
How To Make Bitterballen
Detailed measurements and instructions can be found on the printable recipe card at the bottom of the page.
MEATBALLS
Create the roux: In a large skillet melt the butter over medium-high heat. When the butter has melted completely, add the 1 cup of flour, a bit at a time, whisking it, it will turn into a thick paste.
Cook the gravy: Slowly stir or whisk in the beef broth. Make sure you stir thoroughly, the broth should all be incorporated in the roux, the gravy should be smooth but still quite thick. Simmer the gravy for a couple minutes then add the parsley, onion, and ground beef, stir well before seasoning with salt and pepper and adding the nutmeg.
Solidify the gravy: Transfer the meat mixture to a Tupperware container and refrigerate for several hours until the gravy has solidified. I refrigerated mine overnight, but 3 or 4 hours should suffice.
BREADING
Prep the assembly line:

 

Line 2 baking sheets with parchment paper. In 1 plate add the flour, in another plate add the eggs and the last plate the breadcrumbs.
Form the meatballs: Shape the meat mixture into 1 inch balls. Use a small ice cream scoop, it's easier to get the same quantity of meat each time. Place these meatballs on one of the prepared baking sheets.
Bread the bitterballen: Roll the balls first through flour, then eggs, then finally breadcrumbs. Place these meatballs on the other prepared baking sheet. Once completed, place the baking sheet with the meatballs in the fridge until ready to fry.
FRY
Heat the oil: In a large Dutch oven, skillet or deep fryer, add enough oil, I usually add about 2 inches of oil. Heat the oil up to 375 F degrees.
Fry the meatballs: Fry the meatballs about 6 at a time until golden brown, should take about 4 or 5 minutes. If you have enough oil in your fryer the meatballs will float to the top when done.  Continue until done with all the meatballs.
Maintenance: In between batches you might have to clean the oil with a slotted spoon of all the leftover fried bits from the meatballs.
Finish the dish: Serve hot with a grainy or spicy mustard.
Tips For Making The Best Bitterballen
I used Panko breadcrumbs here because I prefer them especially when trying to get something really crispy, but I put them in a food processor first and pulsed a few times to make them finer.
If you find your mixture is too sticky

 

be sure you're letting it sit in your fridge long enough! I find leaving it overnight makes it a lot easier to work with.
For a vegetarian option, used finely chopped

 

mushrooms.
I would highly recommend whipping this recipe out the next time you're trying to impress a crowd, chances are they've never had anything like it before!
---
← Older Post Newer Post →
---